UC San Diego's Continuous Improvement Journey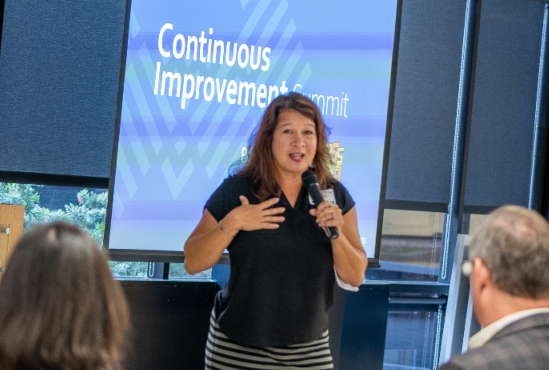 At UC San Diego, we embody a culture of continuous improvement. We empower staff to make tomorrow better than today and achieve excellence. Our efforts and commitments raise the bar of what's possible.
Continuous improvement is the mindset that has taken hold campuswide and within UC San Diego Health. Small, incremental improvements power the mindset, leading to lasting, impactful results.
The mindset is complemented by a methodology – in our case, Lean Six Sigma (LSS). Thousands of staff have completed LSS training, equipping them with the tools and techniques to reduce waste and improve efficiency – the core tenants of LSS.
Whether you're a campus community member looking to apply continuous improvement or get involved, or an administrator at another institution looking for lessons learned, you'll find on this site our journey, the impact we've made, training and learning resources, ways to get involved, and more!
---
Our Story
Laying a Foundation for the Next 60 Years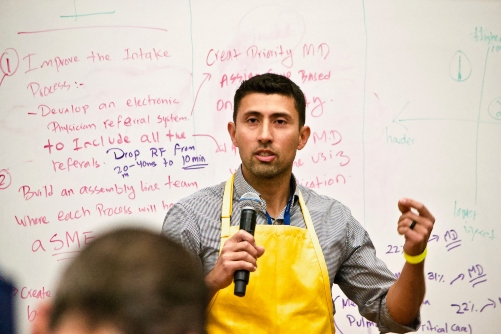 As UC San Diego celebrated its 60th anniversary in 2020-2021, we continue to think differently, break things better and look deeper. Nothing exemplifies this spirit more than a robust, campuswide commitment to continuous improvement.
This is our story.
It Starts with a Goal
Goal #5 of UC San Diego's Strategic Plan is: Creating an agile, sustainable, and supportive infrastructure by ensuring a dedication to service, people, and financial stewardship. Various forms of the word "efficient" are used 11 times to explain the goal further.
Translation: Challenge what we do and how we do it. For UC San Diego, that means any savings in time or money get directly reinvested back to the university's core mission. The benefits go beyond dollars and cents as we improve internal relationships and our service to students, faculty and staff through higher quality and speedier timeframes.
But who would implement the goal, and how would they do it?
The short answer is...all of us!
Grassroots Growth
"This is truly a bottom-up movement," said UC San Diego Chief Information Officer Vince Kellen. "We went from 400 Lean Six Sigma-trained staff in IT Services to over 4,500 campuswide. People quickly realized how useful this training is in their job environment and want to be part of it. To me, it's the heart and soul of how we operate."
The grassroots growth was supported with the appropriate leadership, direction and organizational change management.
In 2015, Operational Strategic Initiatives (OSI) was realigned to support efforts related to the Strategic Plan, with a specific emphasis on Goal #5. OSI identified Lean Six Sigma (LSS) as a common methodology to leverage campuswide. LSS is a process improvement methodology built on reducing waste and improving efficiency. From there, OSI developed a Yellow Belt class to train staff in LSS basics.
Shortly thereafter, IT Services embarked on a departmentwide initiative to embrace Lean Six Sigma, including sending 400 staff members to earn LSS Yellow Belts.
From there, interest spread. Individuals enrolled in Yellow Belt classes by the dozens, and other departments started training entire teams. Hundreds more went on to earn LSS Green and Black Belt certifications through UC San Diego Extension. To date, UC San Diego staff have earned more than 4,500 LSS certifications.
Community Connections
By 2017 leaders from OSI, IT Services and UC San Diego Extension wanted to celebrate our developing culture and demonstrate the value of continuous improvement to key executives and a campuswide audience.
Thus was born Process Palooza, a conference that celebrates UC San Diego's commitment to business excellence, operational efficiency and continuous improvement. The first edition in November 2017 attracted some 500 attendees for a full day of workshops, an LSS-themed competition, vendor expo and networking. Process Palooza grew to 800 in-person attendees in 2018 and attracted over 1,200 attendees for six virtual sessions in 2020.
On the heels of Process Palooza, the Business Excellence Community of Practice (BECOP) originated, too. Its goal is to leverage expertise, knowledge, and resources across UC San Diego, focusing on the intersection of project management, change management and continuous improvement.
Scaling Up for ESR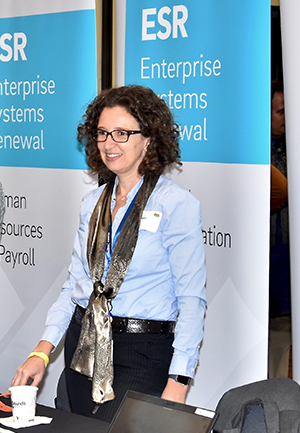 UC San Diego's commitment to, and application of continuous improvement, would be put to the ultimate test as the campus embarked on the Enterprise Systems Renewal (ESR) program. ESR is a multi-year effort designed to reshape the way UC San Diego does business. The program focuses on optimizing core business and administrative practices and delivering new software systems.

 

Continuous improvement and Lean Six Sigma serve as bedrock principles of ESR. This union is personified by the Lean Bench, a team of LSS experts that drives and manages the process improvement components. Lean Bench members come from departments all across campus, and each has earned either a Green or Black belt.
The "Health"-y Side of Continuous Improvement
In 2018, UC San Diego Health established the Transformational Healthcare Team, which provides tools and training specifically designed to support health and medical staff. The department's mission is to create a culture of continuous improvement with a vision of developing 10,000 problem-solvers who continuously improve the value of care for patients while loving their jobs.
From Movement to Mindset and More
Continuous improvement at UC San Diego isn't a project. It's a mindset. There's no defined beginning and end. Practitioners measure success by impact, not implementation. We iterate and improve week by week, day by day, hour by hour.